Lushna Rainroom
Elegant wooden modular private bathroom in nature.
Feeling of showering in the rain in the intimacy of luxury equipped modular bathroom. Features a skylight glass window above shower area. A morning walk through pearl grass to a nearby private luxury bathroom is a special experience you will never forget. Designed especially for glamping, built and transported in one piece, ready to plug and use. Units can be joined to combine a bigger system.
Get catalog
Contact us
Features
Skylight window above the shower
Blends in with the nature
Natural light inside
Private bathroom in nature
Design
Private and spacious bathroom in nature
Glass shower cabin
Fully equipped bathroom
Wardrobe and shelves
Material
Eco wood fibres insulation and massive wood
Exterior: Massive larch boards
Interior floor and partially walls in ceramic
Eco wood fibre insulation 12 cm
Eco foundations fast to install
We are recommending and installing ecological Krinner Ground Screw Foundation System.
With these steel galvanised foundations, we eliminate the need for concrete foundations and any ground preparation from the clients' side. Ideal for slope terrains up to 10 degrees.
We install the screws into the ground, level the top and place and connect our units onto them. If necessary the foundations can be also easily removed with no permanent damage to the landscape. 
Delivery and installation
One-piece delivery for fast installation with minimum impact on the building site.
Lushna Rainroom is a pre-fabricated and fully equipped modular cabins. Based on the economically more reasonable way of transport we decide with the client if are delivering the unit in one piece or in two pieces with seperated roof.
Once on location the unit is just placed on pre-prepared foundations with minimum physical impact on the building site. For unloading we are using trucks with hiab crane with min. lifting capacity of 4.000 kg.
Units can be delivered fully equipped with bathroom accessories, meaning they can be put straight into operation.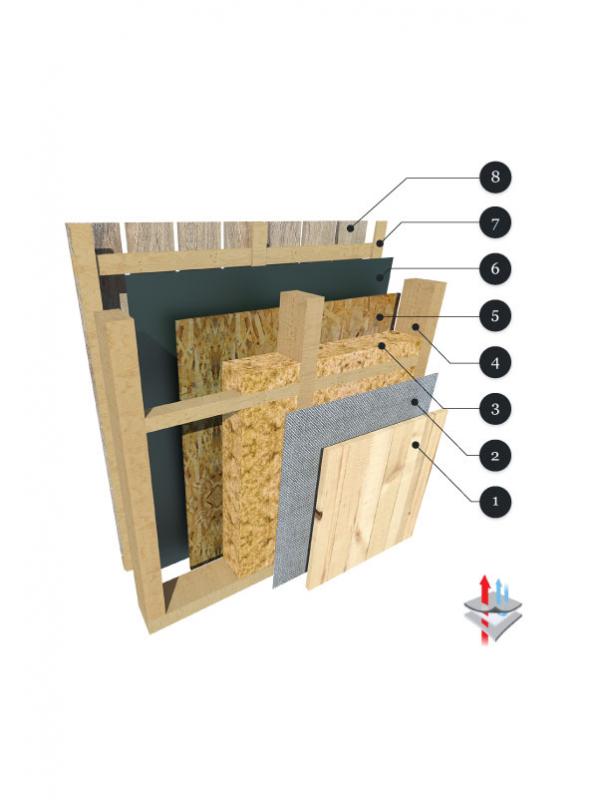 Construction material
WOODSMART® construction system with Eco wood fibre insulation
WOODSMART® construction system is the basic construction system for the construction of prefabricated cabins Lushna. The basic support structure is insulated with 120 mm Eco wooden fibers and together with the highly breathable membranes enables high energy saving and good comfort throught 4 seasons. With all natural materials and highly breathable membranes we provide excellent fire and sound protection and a pleasant living environment.
Technical description
01   Interior spruce wood cladding oiled  19 mm
02   Vapor stop control layer   0,3 mm
03   Eco wooden fibers insulation    120 mm
04   Light-frame wooden structure 120 mm
05   OSB wooden plates  12 mm
06   Highly breathable membrane resistant to UV rays    0,3 mm
07   Larch wood vertical and horizontal battens 60 mm
08   Exterior Larch wood cladding 19 mm
WALL THICKNESS 230,6 mm
INSULATION THICKNESS 120mm
THERMAL TRANSMITTANCE (U-value) 0,15 W/m2K
Get catalog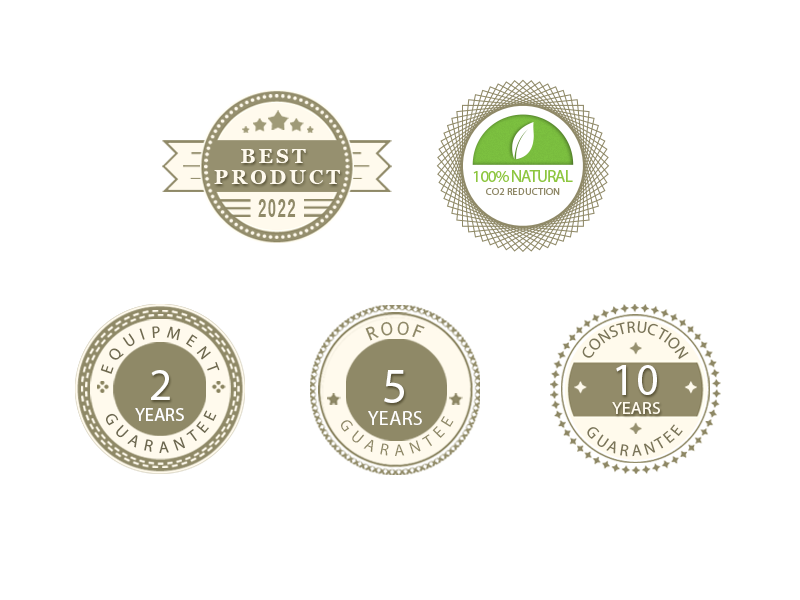 Guarantee
Guarantee of up to 10 years on construction, 5 years guarantee on the roof and 2 years guarantee on equipment.
Due to the use of top quality proven materials and well-designed and tested construction logic in all our products, we can offer a guarantee of up to 10 years on construction, 5 years guarantee on the roof and 2 years guarantee on equipment. Lushna technology is focused on quality, energy efficiency, waste reduction, and fast delivery.
Get catalog